Many times we as chiropractors are looking for ways to grow and sustain our practices. We may try different tools, techniques, and products to grow our practice. One thing that we need to do is to learn from other companies who have successfully scaled and see how we can apply their formulas and business savvy to the chiropractic marketplace.
After watching, The Founder, I decided to do a deep dive and learn more about McDonald's and how Ray Kroc was able to not only scale his company, but also how did he maintain his competitive edge throughout the ages.
In todays podcast I share with you 5 Insights that I found are to be the "secret sauce" for McDonald's sustainability and how we can use it for our own practices and the profession.
[smart_track_player url="http://traffic.libsyn.com/circleofdocs/CS-_Mcdonalds1_.mp3″ image="http://circleofdocs.com/wp-content/uploads/2018/12/0.jpg" title="5 Things Every Chiropractor Can Learn From McDonalds" ]
5 Things McDonalds Does to Maintain It's Competitive Edge
1. McDonald's Sustains Their Competitive Advantage By Providing More Value To The Customer
McDonald's works to provide the best value to their customers of anyone in their market, a great example of this is their value menu
McDonald's tries to always be the leader with dominance when it comes to value (
2. McDonald's Sustains Their Competitive Advantage with Superior Convenience
They continue to focus on developing and selling products that can be served quickly
3. McDonald's Sustains Their Competitive Advantage with Innovation
They utilize Culinary Head Chefs that innovate and create new menu items to be relevant and provide high-quality taste.
As per their recent menu changes, this is just one example of how they are continually innovating and adding new products (
4. McDonald's Sustains Their Competitive Advantage with Optimal Business Operations
Ray Kroc described that he strived for absolute perfection for McDonald's. This would be true in how many described how he operated and the strict regiment he expected his employees to perform by. He was quoted as saying "Perfection is very difficult to achieve, and perfection was what I wanted in McDonald's. Everything else was secondary for me." (
McDonald's has a strict focus on operating efficiently at all levels of their company to keep costs competitive
5. McDonald's Sustains Their Competitive Advantage with their Brand
McDonald's has an amazing job at creating recognizable images. "The golden arches of McDonald's are said to be the most recognizable symbol in the world". (
How does McDonald's Position their Brand?
McDonald's Utilizes Branding & Co-Branding With Major Companies To Maximize Impact And Reach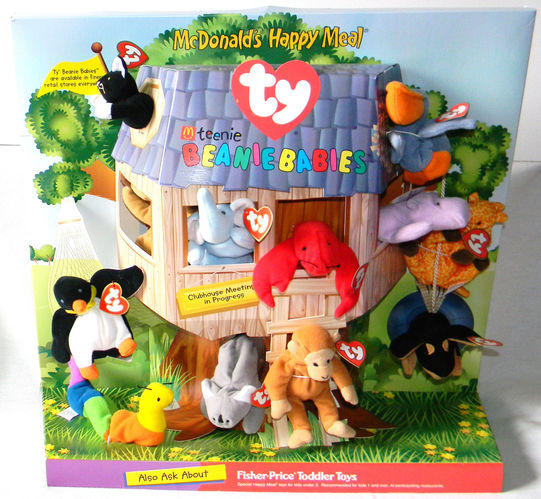 Teenie Beanie Babies
McDonald's utilizes Branding and Co-Branding (when two companies work together to market their good/service) with major well-known companies in their marketing
McDonald's has found strategic ways to co-brand with major companies and used this to their benefit for marketing their restaurant:

Coca Cola is their drink supplier who they do co-branding with(which is widely known throughout the world)
Walmart (McDonald's can be found in 314 Walmart stores in Canada)
Walt Disney (Happy Meal toys) – It should be noted that they are no longer working with McDonald's as they have concerns about childhood obesity and do not want to be linked to fast-food
Hasbro Monopoly Game
TY Beanie Babies – Miniature beanie babies in Happy Meals
Transformers Toys in Happy Meals
NBA themed cups, toys, collecting cards, and even a burger named after Michael Jordan called McJordan (Michael Jordan cups, Dennis Rodman cups where his hair would change depending on the temperature)
NHL – Collectable Hockey Cards and various hockey memorabilia
NFL – McDonald's signed to be the official restaurant sponsor, and created contests like "tailgate photo sweepstakes", happy meal toys, sweepstake contests that a customer could win tickets to the SuperBowl
NASCAR – McDonald's has sponsored various NASCAR cars
Olympics – Official Sponsor and themed cups, Olympic collectible cards
Nickelodeon toys in Happy Meals
Barbie figurines in Happy Meals
Cadbury – this is found it items like McFlurrys and Milkshakes
Hot Wheels toys in Happy Meals
6. McDonald's Uses Catchy Phrases and Messages in their Advertisements
McDonald's has had 23 different slogans in the US from 1960 to now.
McDonald's current slogan is "I'm lovin' it". Other slogans that could be remembered are "Look for the Golden Arches!" (1965-1967), "Do you believe in magic?" (1993-1997), "Did somebody say McDonald's?"
Their brand at this time would be "I'm lovin it" and weaving that through their advertising. A key thing to McDonald's is that they focus on creating memories for the customers. The phrase "I'm lovin' it" has been so influential, it is a part of the vocabulary of North Americans. (
An example of how McDonald's uses their tag lines in their marketing is how they play on the "I'm lovin' it" theme and showed how their food can conquer hate, replacing hate with love in the recent Big Mac commercial "conquering hate" – It is a commercial where Montreal Canadiens fans hug the last person they would want – Zdeno Charra from Boston Bruins
Having a slogan is a simple way of getting people to remember your logo or brand and have a positive image with your company and McDonald's executes this flawlessly.